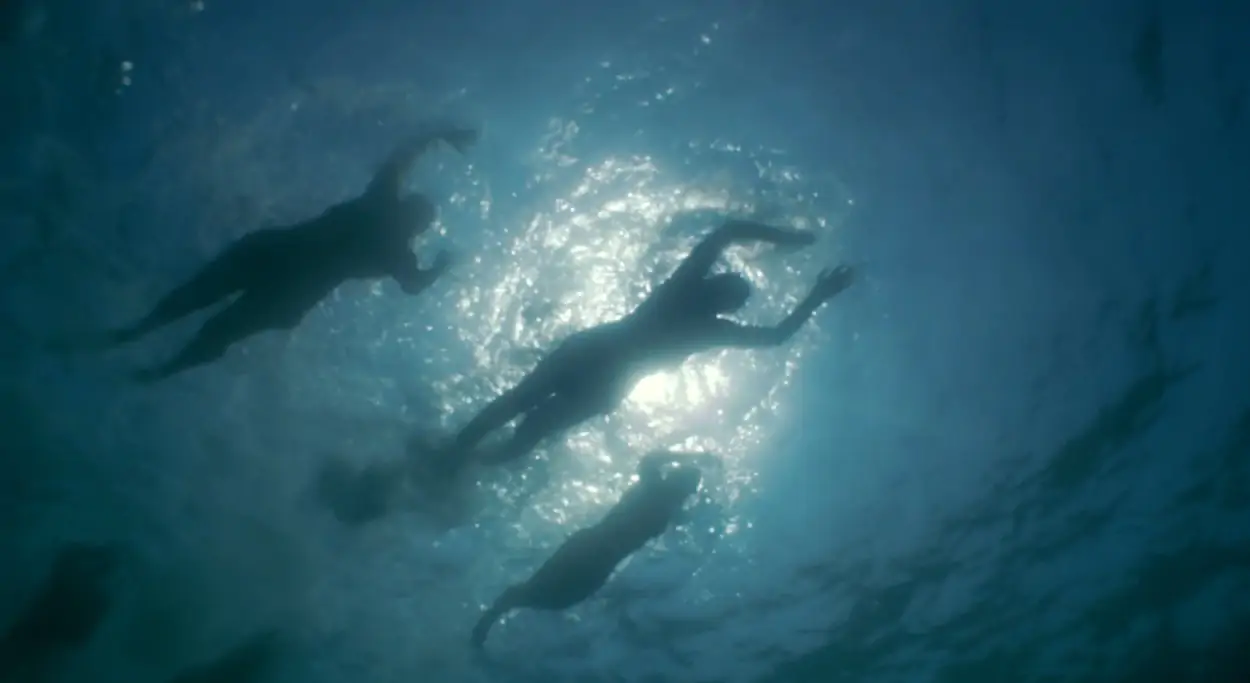 While Middle Eastern female athletes proved their victory in the water, Filmworks were victorious in the production servicing of this project for Director Sara Dunlop of Rattling Stick (UK), despite COVID-19 filming challenges. But, as Zainab Al Eqabi, the inspiring amputee swimmer featured in the film, says "If I want to achieve or learn something, nothing can stop me." To facilitate the Nike campaign, we were determined to proceed with the same dynamic spirit sported by the Nike campaign women. Nothing was going to stop us.
Concept and kick-off
Kicking off with a swimming lesson between a mother and child the film speedily dives into action, galvanized by the incredible female athletes swimming, surfing and rowing together while sporting Nike's Victory Swim Collection of modest swimwear. The collection includes full-coverage swimsuits, swim hijabs, tunics, and leggings.
While the campaign shows that modesty and power are not mutually exclusive, it also shows women – from that very first swim – that they are not alone. There are oceans of possibilities that can be set into motion from those very first few kicks and strokes – if one is only brave enough to take them. The busy body of water becomes a community of support and togetherness.
Shooting locations
The film was shot in various UAE locations:
Secret Beach in Jumeriah
The Dubai Canal
Al Bidya Beach in Fujairah
Snoopy Island in Fujairah
Al Aqah Beach Fujairah
Hamdan Sports Complex
A Private Villas in Dubai
Cast and Crew
Pulling together the best people for the job means crossing borders. As Sara was unable to travel to the UAE, we had a locally based Director, Amirah Tajdin, as Sara's eyes and ears on set with the additional support of the First AD (Assistant Director) and production team facilitating a successful collaboration.
The technical crew and production freelancers were all sourced from the local talent pool, facilitated by Filmworks.
The film featured three female athletes: Maha Al Ameri, a UAE national rower; Egyptian Dubai-based triathlete, Manal Rostom; and Iraqi amputee swimmer Zainab Al-Eqabi. The rest of the cast was comprised of local athletes, girls and women.
Challenges Faced: Challenges Overcome
Due to the COVID-19 lockdown, filming that started in March was then postponed until September.
Eventually, the decision to film remotely was made, with Sara remotely directing from the UK.
While challenging, a system was implemented which allowed the Director to communicate and playback shots repeatedly and maintain creative direction in real-time through three separate screens where:
Zoom was used as a communication tool to the on-set Director, DOP, (Director of Photography), First AD (Assistant Director) and Production team via wireless headsets.
QTAKE – an advanced software application allowed the Director to log, capture, and playback the video output at will.
A GoPro witness camera, which gave the Director visual access to the set.
Everyone stood up to the challenge, and although demanding, the tools and camera set ups assisted the Director in getting the shots needed despite being located on a different continent.
A Victory win for all those involved, the film was well-received after it was released in October 2020 with 2.5 million views.
As a game-changing option for female athletes with a powerful message, "You Can't Stop us: Nike Victory Swim" campaign was an incredible collaborative effort. It brought inspiring talent together to produce an unbounded project in its potential to inspire and move women of any cultural background, in the water and out.
Click here to watch the final film produced. NIKE SWIM